Basics of Formula Feeding
Keep in mind, it does not matter if you are formula feeding or breast feeding your baby; all babies are different and follow a unique schedule or feeding pattern. Always check with your child's pediatrician to make sure your baby is growing and developing appropriately.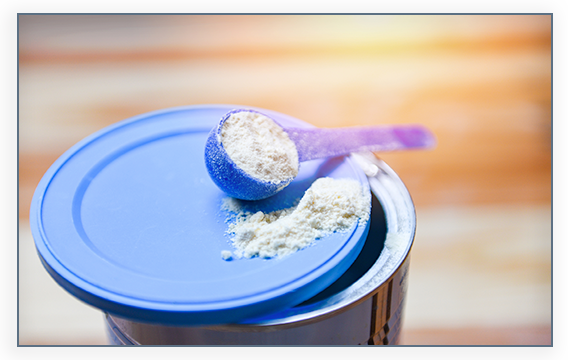 Using powdered infant formula
• Use water from a safe source, such as distilled or purified water, to mix with formula.
• Follow the measurement instructions on your formula container always adding water first and then powder.
• Allow 15-30 minutes to finish bottle. Prepared formula should be used or refrigerated within one hour.
• Formula may be prepared ahead of time and stored in refrigerator for up to 24 hours.
• Open cans of formula have a 30-day shelf-life. Write the open date on the lid, and if there is any left after 30 days, throw it away.
Have more questions? Listen to our FREE podcast!
LISTEN NOW
Guide for formula feeding
As infants grow, their ability to consume a greater volume and variety of food increases. Newborns need small, frequent feedings, whereas older infants can consume more volume requiring fewer feedings. Initially, you can feed your baby formula on demand when he/she cries or shows signs of hunger. Your baby will drink 2-3 oz. every 2-4 hours the first few days of life. By the end of the first month, you will have a better idea of your baby's feeding schedule. During the first few weeks of life, if your baby is sleeping five hours and missing feedings, be sure to wake him/her up to feed.
Choosing a formula
There are many commercial formulas available for purchase, and one brand or type of formula is not best for all babies. Most pediatricians will recommend using a formula that is iron fortified, but always talk with your child's doctor about what formula is best, especially if you suspect your baby has an intolerance or allergy.
---
The information contained here within is not intended to be a substitute for professional medical advice, diagnosis, or treatment. Always seek the advice of your physician or other qualified health provider with any questions you may have regarding a medical condition. Never disregard professional medical advice or delay in seeking it because of something you have read. If you think you may have a medical emergency, call your doctor, go to the emergency department, or call 911 immediately. Edwards Health Care Services (EHCS) does not recommend or endorse any specific tests, physicians, products, procedures, opinions, or other information that may be mentioned here within. Reliance on any information provided by EHCS, EHCS employees, contracted writers, or medical professionals presenting content for publication here within is solely at your own risk.
Sources:
• https://www.womenshealth.gov/breastfeeding/learning-breastfeed/making-breastmilk
• https://www.healthychildren.org/English/ages-stages/baby/formula-feeding/Pages/Amount-and-Schedule-of-Formula-Feedings.aspx
• https://www.llli.org/breastfeeding-info/frequency-feeding-frequently-asked-questions-faqs/
• https://www.cdc.gov/nutrition/infantandtoddlernutrition/breastfeeding/how-much-and-how-often.html
---
Tags: Baby, Basics, Feeding, Formula, Health, Infant, Mom
---
Related Articles