Dexcom Continuous Glucose Monitor

Dexcom Continuous Glucose Monitor
Gain control of your diabetes with real-time monitoring!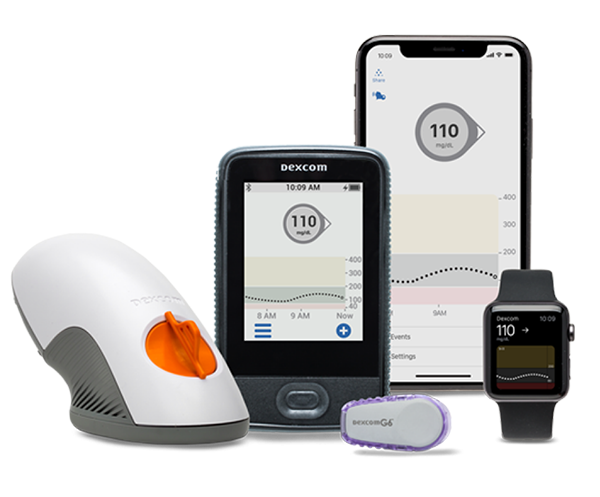 Better manage your Type 1 or Type 2 diabetes with the Dexcom Continuous Glucose Monitor.
The future of Continuous Glucose Monitoring (CGM) is here with the Dexcom G6! Always know your glucose number and where it's headed. The Dexcom G6 features a slim, water-resistant* sensor that is discreet and easy to insert. The sensor accurately measures glucose levels just beneath the surface of the skin and sends data wirelessly every 5 minutes to your compatible smart device* or receiver.
Enroll online to contact our expert Diabetes Care team and get started on CGM therapy from Dexcom!
Shows real-time glucose readings, right on your smart device
Know your readings with zero fingersticks and no calibration
Slim, water resistant sensor with an extended 10-day wear
Is proven to lower A1C and reduce hypoglycemic incidents
Dexcom G6 is Available through Medicare!
Learn More
*Fingersticks required for diabetes treatment decisions if symptoms or expectations do not match readings.
*The Dexcom G6 Sensor and Transmitter are water-resistant and may be submerged under eight feet of water for up to 24 hours without failure when properly installed.
*If your glucose alerts and readings from the G6 do not match symptoms or expectations, use a blood glucose meter to make diabetes treatment decisions.
*For a list of compatible devices, visit www.dexcom.com/compatibility.