Spectra 9 Plus Breast Pump Offers Ultimate Portability, Customized Pumping Experience
The 9 Plus breast pump from Spectra is slim and lightweight; it basically fits in the palm of your hand! It runs on an inbuilt rechargeable battery so moms can pump whenever and wherever. With two-phase technology and a closed system, the 9 Plus is a great choice for moms looking for a comfortable and productive pumping experience.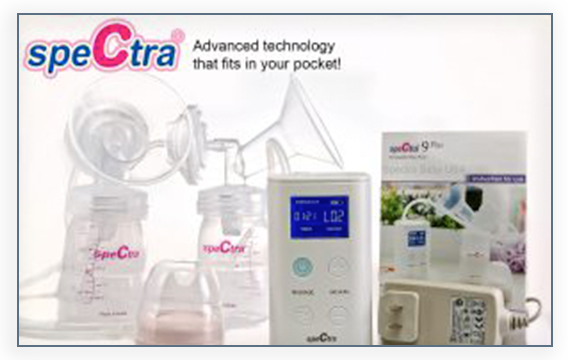 Moms tell us that the small size is what really drew them to the 9 Plus, but they often end up surprised at how well the pump functions. Easily portable and great suction are not mutually exclusive with this specific model, but the 9 Plus has the same great suction capabilities as the bigger Spectra breast pumps. And the pump can fit into practically any bag – it's a win, win situation!
Weighing under a pound, the Spectra 9 Plus won't weigh you down, but still provides everything you need for a great breast pumping experience. The 9 Plus features the following:
Closed System means there's a physical barrier between milk, moisture and the pump, ensuring hygiene and motor performance.

Double Pumping Kit (BPA-free kit comes with 24mm breast shields, two wide-neck collection bottles and caps, backflow protector and valve)

Inbuilt Rechargeable Battery and AC Power Adaptor

One Touch Adjustable Suction/Cycle (0-300 mmHg vacuum range and 30-46 RPM cycle length)

Bright LCD Display with Timer (also has an auto-shutoff feature, which is great for busy moms)

Advanced Massage/Expression Technology lets moms fine-tune the suction strength and cycle speed with a Massage mode that stimulates mom's letdown reflex and an Expression mode that mimics the baby's sucking rhythm.

Dimensions: 11.2 cm x 7.2 cm x 4.7 cm; 0.7 pounds

One-Year Warranty
You might think that a desirable pump like the Spectra 9 Plus wouldn't be covered by insurance, but it is! Some insurances may require an upgrade fee, but it's worth it for a customized pumping experience in a convenient package. Order yours through insurance now!
---
Tags: Breast Pumps, Breastpumps Covered by Insurance, Spectra
---
Related Articles