Prenatal Meals, Snack Ideas, & Meal Planning Tips
While pregnant, it is important to listen to your body to tell you when to eat. This will likely be different each day and will mean having a snack or meal every few hours (based on hunger/fullness, potential nausea, other side effects, or increased nutritional needs).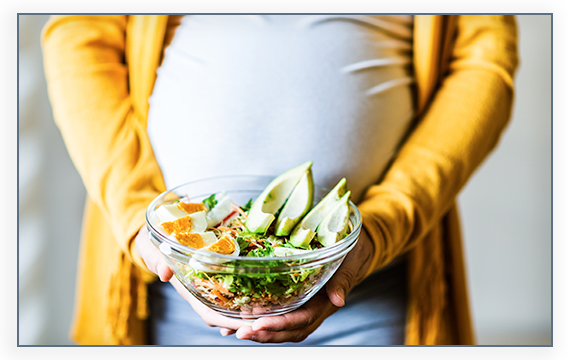 Basics to keep in mind
• Having the kitchen stocked with healthy options and snacks at all times is important
• Incorporate protein, fruits, vegetables, whole grains, and healthy fats into your daily meals
• When snacking and meal prepping, be sure to keep in mind which foods need to be avoided during pregnancy
• Talk to your doctor and/or Registered Dietitian if you need a list of these foods
Keeping things quick and easy
• Which meal of the day is most challenging for you to prepare? Try to plan ahead for that one.
• If it's overwhelming to plan ahead for all 7 days of the week, start by trying to plan for 2 – 3
• Write out your meal ideas and grocery list throughout the week
• Consider using a grocery delivery service or ask for help with grocery shopping from a spouse, family member, or friend, if needed
• Ask for help with meal prep and cooking, especially if side effects such as nausea or food aversions make it difficult to spend time in the kitchen
• Basic thought process when meal planning:
– Protein + healthy fat source + vegetable(s) + healthy carbohydrate source
– For specific food group recommendations, ask your dietitian
– When making a grocery list, try to think of family meals (how many nights/week is realistic for you?), healthy snacks for yourself, breakfast foods, and meals/snacks for children.
Let our podcast help ease you into motherhood!
LISTEN NOW
Quick, easy snack ideas
• Raw veggies (baby carrots, red or green peppers, sliced cucumber, celery) and hummus
• Smoothie with whole foods – examples: fruits, vegetables (spinach, kale), chia seeds
• Whole grain or 100% whole wheat toast with almond butter
• Sliced apples with peanut butter
• Air-popped popcorn
• Plain Greek Yogurt with berries (blueberries, strawberries, or blackberries)
• Handful of raw or low-sodium/no salt added nuts
---
The information contained here within is not intended to be a substitute for professional medical advice, diagnosis, or treatment. Always seek the advice of your physician or other qualified health provider with any questions you may have regarding a medical condition. Never disregard professional medical advice or delay in seeking it because of something you have read. If you think you may have a medical emergency, call your doctor, go to the emergency department, or call 911 immediately. Edwards Health Care Services (EHCS) does not recommend or endorse any specific tests, physicians, products, procedures, opinions, or other information that may be mentioned here within. Reliance on any information provided by EHCS, EHCS employees, contracted writers, or medical professionals presenting content for publication here within is solely at your own risk.
---
Tags: Easy, Food, Healthy, Meal planning, Pregnancy, Snacks, Tips, Wellness
---
Related Articles