What is Post-Partum Depression?
Postpartum mood disorders are typically separated into three subcategories: the "baby blues," postpartum depression (PPD), and postpartum psychosis (PPP). The "baby blues" is the least severe, most common, and typically resolve within a few weeks.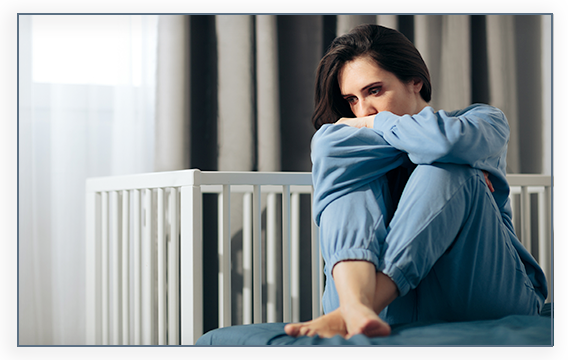 Postpartum depression (PPD) occurs in approximately 15% of new mothers. How often PPD symptoms occur, how long they last, and how intense they feel can be different for each person; one size does not fit all. PPD is believed to be caused by multiple interrelated factors including hormonal changes, physical changes, and stress. Symptoms may occur a few days after delivery or sometimes as late as a year later. Many women will have alternating good and bad days with symptoms ranging from mild to severe.
Symptoms of PPD
• Crying more often than usual
• Feelings of anger
• Withdrawing from loved ones
• Feeling numb or disconnected from your baby
• Worrying that you will hurt the baby
• Doubting your ability to care for your baby
• Lasting sad, anxious, or "empty" mood
• Hopelessness or pessimism
• Feelings of guilt, worthlessness, or helplessness
• Feelings of irritability or restlessness
• Loss of interest in hobbies and activities
• Loss of energy
• Problems concentrating, recalling details, and making decisions
• Difficulty falling asleep or sleeping too much
• Overeating or loss of appetite
• Thoughts of suicide or suicide attempts
• Aches or pains that do not get better with treatment

Since PPD symptoms can range in severity, please speak with your healthcare provider immediately if you are experiencing any of these symptoms.
Listen to our FREE podcast for more advice and guidance!
LISTEN NOW
Treatment
Postpartum depression is treatable, and most people get better with treatment. If you think you may be depressed, the first step to getting treatment is speaking to your health care provider. You can even ask your health care provider for a referral to a mental health professional who specializes in PPD. There are effective treatments that can put you on the road to recovery including therapy and/or medication. Seeking treatment in a timely manner is important; the longer you wait to get help, the longer it may take for you to feel better.
---
The information contained here within is not intended to be a substitute for professional medical advice, diagnosis, or treatment. Always seek the advice of your physician or other qualified health provider with any questions you may have regarding a medical condition. Never disregard professional medical advice or delay in seeking it because of something you have read. If you think you may have a medical emergency, call your doctor, go to the emergency department, or call 911 immediately. Edwards Health Care Services (EHCS) does not recommend or endorse any specific tests, physicians, products, procedures, opinions, or other information that may be mentioned here within. Reliance on any information provided by EHCS, EHCS employees, contracted writers, or medical professionals presenting content for publication here within is solely at your own risk.
Sources:
• https://americanpregnancy.org/first-year-of-life/forms-of-postpartum-depression/
• https://www.cdc.gov/reproductivehealth/depression/
• https://postpartumprogress.com/six-things-that-can-affect-how-quickly-youll-recover-from-postpartum-depression
• https://americanpregnancy.org/first-year-of-life/baby-blues-or-postpartum-depression/
• https://www.helpguide.org/articles/depression/postpartum-depression-and-the-baby-blues.htm
• https://ods.od.nih.gov/factsheets/Folate-HealthProfessional/
---
Tags: Baby, Depression, Mom, Post-partum depression, Post-pregnancy, PPD, Pregnancy
---
Related Articles