Can I Exercise During Pregnancy?
Of course you can exercise during pregnancy! In fact, there are proven psychical and mental benefits to incorporating physical activity into your daily or weekly routine. Most exercises are safe to perform during pregnancy, as long as you exercise with caution and don't overdo it.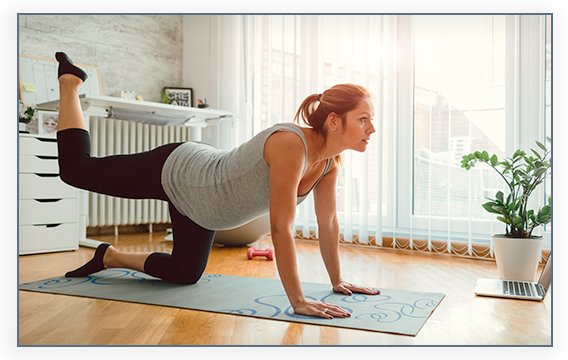 Benefits of exercise during pregnancy
• Lowers risk of gestational diabetes and improved management of existing gestational diabetes.
• Lowers risk of preeclampsia.
• Lowers incidence of low-back pain, improved posture.
• Improves mood, energy, and sleep quality.
• Prepares your body to deal with labor and heal after your baby is born.
• Prevents excess weight gain.
• Promotes better endurance and muscle tone.
• Decreases feelings of bloating, swelling, and constipation.
Let our podcast help ease you into motherhood!
LISTEN NOW
What exercises should I be doing?
Unless you've had previous pregnancy and/or labor complications or have been told to limit activity by your doctor, you can remain active and modify exercises as needed, by decreasing your exercise intensity. You may need close monitoring with physician if you are planning on doing strenuous exercise. Aim for 150 minutes of moderate intensity physical activity per week spread across at least 3 days per week, if not daily. The safest and most productive activities are swimming, brisk walking, indoor stationary cycling, step or elliptical machines, and low-impact aerobics (taught by a certified aerobics instructor).
Warning signs to stop exercise
• Bleeding
• Dizziness
• Headache
• Chest pain
• Muscle weakness
• Calf pain/swelling
• Preterm labor
• Decreased fetal movement
• Amniotic fluid leakage
Tips 
• Drink plenty of water before, during, and after exercise to help maintain normal body temperature.
• Use the "talk test" to gauge exercise intensity; you should be able to hold a conversation during moderate exercise. If you feel like you need to catch your breath while talking, this means your exercise is vigorous, so decrease your exercise intensity.
• Wear breathable clothing and a supportive sports bra.

---
The information contained here within is not intended to be a substitute for professional medical advice, diagnosis, or treatment. Always seek the advice of your physician or other qualified health provider with any questions you may have regarding a medical condition. Never disregard professional medical advice or delay in seeking it because of something you have read. If you think you may have a medical emergency, call your doctor, go to the emergency department, or call 911 immediately. Edwards Health Care Services (EHCS) does not recommend or endorse any specific tests, physicians, products, procedures, opinions, or other information that may be mentioned here within. Reliance on any information provided by EHCS, EHCS employees, contracted writers, or medical professionals presenting content for publication here within is solely at your own risk.
Sources:
• Bushman, B. A., Battista, R., Swan, P., Ransdell, L., & Thompson, W. R. (2013). ACSM's Resources for the Personal Trainer. Wolters Kluwer Health Adis (ESP).
• Powers, S. K., Howley, E. T., Cotter, J., De Jonge, X. J., Leicht, A., Mündel, T., … & Rattray, B. (2014). Exercise Physiology: Australia/New Zealand. McGraw-Hill Education.
• https://csepguidelines.ca/guidelines-for-pregnancy
• https://bjsm.bmj.com/content/37/1/6
• https://www.acog.org/Patients/FAQs/Exercise-During-Pregnancy?IsMobileSet=false
---
Tags: Exercise, Health, Movement, Pregnancy, Tips, Wellness
---
Related Articles