Exercise After Pregnancy
Starting an exercise routine after having a baby is important for long term health, but there's a few things to consider before tying up your sneakers and getting started.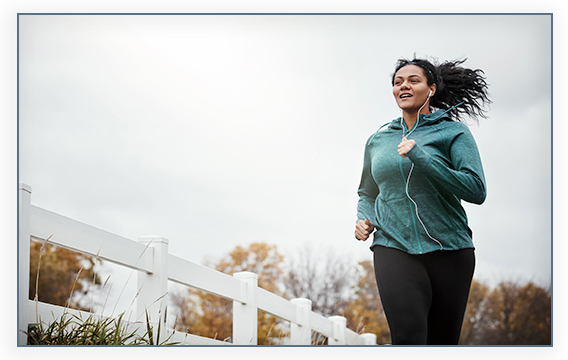 Body changes & responses to exercise
• Physical changes of pregnancy including increased joint range of motion, and higher heart rate at rest and during exercise, will continue 4 – 6 weeks into postpartum.
• Pregnancy causes your back muscles to tighten and stomach muscles to stretch. The muscles and joints in your pelvis may also become weaker and more flexible.
• You may experience diastasis recti (a separation in the center of your stomach muscles) during pregnancy which can take up to 8 weeks to close. Have your healthcare provider check for this condition, as this may affect the types of exercises you can do.
Benefits of exercise after pregnancy
• Improved abdominal toning and strength
• Improved endurance
• Decreased risk of DVT (deep vein thrombosis), (i.e. blood clots)
• Weight loss
• Improved mood, energy, and sleep

Have more questions? Listen to our FREE podcast!
LISTEN NOW
Safety tips
• Unless not recommended by your doctor, aim for 150 minutes of moderate intensity physical activity spread across at least 3 days or more per week.
• Include strength training exercises at least 2 days per week.
Higher intensity exercise may cause lactic acid buildup in milk, which some babies may not like, so pumping or feeding before your workout can prevent this.
• Be sure to drink water before, during, and after your workout. Especially if breastfeeding!
• Include a 5 – 10 minute warm up and cool down to prepare your body for exercise and stretch your muscles.
• Wear a supportive bra and breathable clothing.
• Try walking with your baby in a stroller, taking an exercise class with a group, or workout videos at home.
---
The information contained here within is not intended to be a substitute for professional medical advice, diagnosis, or treatment. Always seek the advice of your physician or other qualified health provider with any questions you may have regarding a medical condition. Never disregard professional medical advice or delay in seeking it because of something you have read. If you think you may have a medical emergency, call your doctor, go to the emergency department, or call 911 immediately. Edwards Health Care Services (EHCS) does not recommend or endorse any specific tests, physicians, products, procedures, opinions, or other information that may be mentioned here within. Reliance on any information provided by EHCS, EHCS employees, contracted writers, or medical professionals presenting content for publication here within is solely at your own risk.
Sources:
• Bushman, B. A., Battista, R., Swan, P., Ransdell, L., & Thompson, W. R. (2013). ACSM's Resources for the Personal Trainer. Wolters Kluwer Health Adis (ESP).
• Powers, S. K., Howley, E. T., Cotter, J., De Jonge, X. J., Leicht, A., Mündel, T., … & Rattray, B. (2014). Exercise Physiology: Australia/New Zealand. McGraw-Hill Education.
• SCPE. CSEP. https://csepguidelines.ca/guidelines-for-pregnancy/. Accessed July 29, 2019.
• Artal R, O'Toole M, White S. Guidelines of the American College of Obstetricians and Gynecologists for exercise during pregnancy and the postpartum period. British Journal of Sports Medicine. https://bjsm.bmj.com/content/37/1/6. Published February 1, 2003. Accessed July 29, 2019.
• Pregnancy Workouts & Exercises. Cleveland Clinic. https://my.clevelandclinic.org/health/articles/6914-exercise-during-pregnancy. Accessed July 29, 2019
• Nichols N. The Training Edge The Latest for Fitness Professionals. Restore Your Core: Progressive Exercises for Post-Pregnacy. https://magazine.nasm.org/americanfitness-magazine/issues/september-october-issue/restore-your-core-progressive-exercises-for-post-pregnancy. Accessed July 29, 2019.
---
Tags: Exercise, Health, Mom, Post-Partum, Wellness
---
Related Articles