What Prenatal Vitamin Should I Take?
Prenatal vitamins are supplements that give your body the vitamins and minerals needed for a healthy pregnancy. Your doctor may suggest taking them when you begin to plan for pregnancy, as well as while you're pregnant. It is best to try to get specific nutrients through food.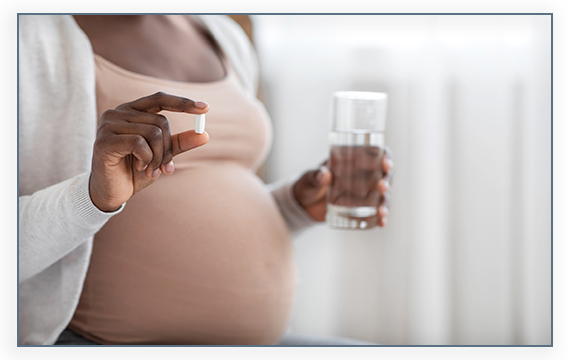 A prenatal vitamin as well as additional vitamin supplements are great to fill in nutritional "gaps" you might face. If you are not already taking a prenatal vitamin, below is a list of the specific vitamins and amounts. These are important to ensure you and your baby are getting the needed nutrients during this time.
Look for prenatal vitamins that contain the following:
• 400 micrograms (mcg) of folic acid
• 400 IU of vitamin D
• 200 to 300 milligrams (mg) of calcium
• 70 mg of vitamin C
• 3 mg of thiamine
• 2 mg of riboflavin
• 20 mg of niacin
• 6 mcg of vitamin B12
• 10 mg of vitamin E
• 15 mg of zinc
• 17 mg of iron
• 150 micrograms of iodine
• 100 mg of magnesium
Let our podcast help ease you into motherhood!
LISTEN NOW
Possible Side Effects
• Some prenatal vitamins can cause nausea. If that happens to you, talk to your health care provider. They may be able to prescribe a different kind of prenatal vitamin in either a chewable or liquid form.
• Note that the iron in prenatal vitamins may make you constipated. Eating a high-fiber diet, drinking plenty of water, and regular exercise (if your doctor says it's safe) can help with this.
---
The information contained here within is not intended to be a substitute for professional medical advice, diagnosis, or treatment. Always seek the advice of your physician or other qualified health provider with any questions you may have regarding a medical condition. Never disregard professional medical advice or delay in seeking it because of something you have read. If you think you may have a medical emergency, call your doctor, go to the emergency department, or call 911 immediately. Edwards Health Care Services (EHCS) does not recommend or endorse any specific tests, physicians, products, procedures, opinions, or other information that may be mentioned here within. Reliance on any information provided by EHCS, EHCS employees, contracted writers, or medical professionals presenting content for publication here within is solely at your own risk.
Sources:
• Bhargava HD. Pregnancy and prenatal vitamins. WebMD. https://www.webmd.com/baby/guide/prenatal-vitamins. Published August 19, 2020. Accessed October 20, 2020.
• Office of Dietary Supplements – Magnesium. NIH Office of Dietary Supplements. https://ods.od.nih.gov/factsheets/Magnesium-HealthProfessional/. Accessed October 21, 2020.
---
Tags: Health, Pregnancy, Prenatal, Prenatal Vitamins, Vitamins, Wellness
---
Related Articles