What to Expect with an Insulin Pump
An insulin pump is a great resource for improving life with diabetes, but it is still important to learn how your pump works and how to manage it while controlling your blood glucose.

When transitioning to an insulin pump, it is important to familiarize yourself with any changes by paying close attention to your levels and adjustments.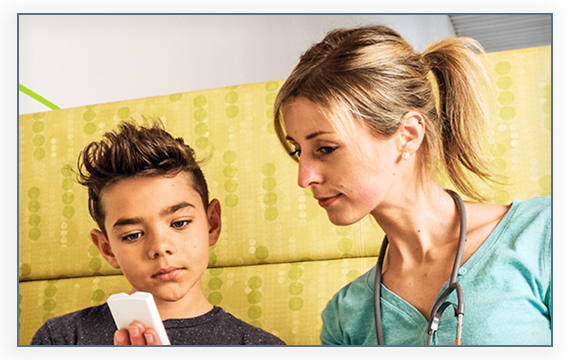 Adjusting to an Insulin Pump
You don't need to be an overnight expert on your insulin pump; your healthcare team and Diabetes Care Advisor are here to assist with any questions. Use the information below as you begin to use an insulin pump. Still have questions?
Call us at 1-800-951-1725 or email us at dca@myehcs.com
What You'll Need to Learn
Pump parts and features
Infusion sets
Caring for the insertion site
Adjusting insulin (basal/bolus)
Counting carbohydrates
Troubleshooting
Using syringes to prevent DKA (diabetic ketoacidosis)
Taking Insulin at Specific Times
Taking insulin at specific times throughout the day will not only help your body adjust, but also help it remember boluses, especially around meal times.
Traveling with an Insulin Pump
When traveling, bring extra pump supplies, syringes, and insulin in case you are unable to use your pump. It is always good to have a back up plan.
Watching the Foods You Eat
While using an insulin pump, when you eat, what you eat, and how much you eat are up to you. it may be a good idea to speak with a dietitian or healthcare provider about your diet when beginning to use an insulin pump.
Recording Blood Glucose Checks
Make a habit of recording your blood glucose checks, carbohydrate amounts, and correction doses. When talking with your healthcare provider, these records will help to adjust and address any areas of concern, if needed.
Turning off Your Pump
There may be times where you will need to turn off or remove your insulin pump. For an easy reminder to turn your pump back on, listen to the pump alarms or set a timer.
---
Tags: Diabetes, Diabetes Management, Diabetes Supplies, Insulin Pump Therapy, Insulin Pumps
---
Related Articles