The Future Is Now
Knowing your blood glucose numbers is key to managing diabetes successfully, but it can be tricky to test your blood sugar as often as you should.

Not knowing can lead to guessing insulin doses, erratic blood sugar, and out-of-control A1C levels.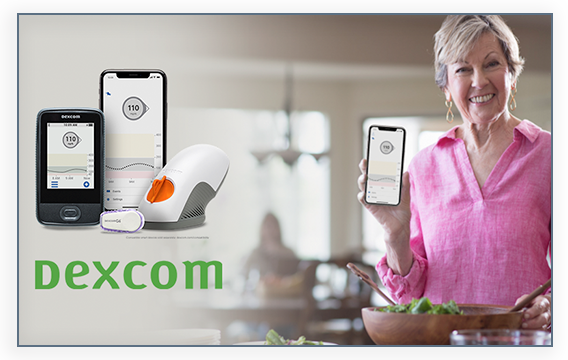 But a continuous glucose monitoring (CGM) system like the Dexcom G6 helps eliminate the mystery and empowers you with the data needed to control your blood sugar levels, spot trends in how your body responds to different situations, and ultimately better manage your diabetes.
With features ranging from customizable alerts and alarms to the ability to share your numbers with up to 10 followers, the Dexcom G6 is clinically proven to lower A1C, reduce hyper- and hypoglycemia, and increase time in range.1,2 All of this without fingersticks!
The Dexcom G6 system is an easy-to-use CGM that consists of the following components:
A simple auto-applicator easily inserts a small sensor just beneath the skin

The sensor and transmitter work together to continuously measure glucose levels and send data wirelessly to the display device

Your display device (either the Dexcom receiver or a compatible smart device**) displays real-time glucose data
The Diabetes Care team at EHCS is ready to help you get your Dexcom G6. We work with hundreds of insurances, including Medicare and Medicaid. As a leader in diabetes care for more than 25 years, we truly understand the importance of quality products like the Dexcom G6 with personalized care. Click below to find out if you qualify for a Dexcom G6 system. After you complete the online application, EHCS will pair you with a dedicated Diabetes Care Advisor (DCA) to help you through the process. Our team of DCAs is your guide to better diabetes control from insurance approval to future supply reorders and will guide the way to better health.
* Fingersticks required for diabetes treatment decisions if symptoms or expectations do not match readings.
** For a list of compatible devices, visit www.dexcom.com/compatibility
1. Beck, RW, et al. JAMA. 2017;317(4):371-378.
2. Welsh, JB et al. Diabetes Technol Ther. 2019;21(3):128-32.
BRIEF SAFETY STATEMENT Failure to use the Dexcom G6 Continuous Glucose Monitoring System (G6) and its components according to the instructions for use provided with your device and available at https://www.dexcom.com/safety-information and to properly consider all indications, contraindications, warnings, precautions, and cautions in those instructions for use may result in you missing a severe hypoglycemia (low blood glucose) or hyperglycemia (high blood glucose) occurrence and/or making a treatment decision that may result in injury. If your glucose alerts and readings from the G6 do not match symptoms or expectations or you're taking over the recommended maximum dosage amount of 1000mg of acetaminophen every 6 hours, use a blood glucose meter to make diabetes treatment decisions. Seek medical advice and attention when appropriate, including for any medical emergency.
---
Tags: CGM, Dexcom, Diabetes, Diabetes Management, Diabetes Supplies
---
Related Articles