Available Now: Dexcom G6 Covered by Medicare
Always know your glucose number and where it's headed with The Dexcom G6® therapeutic continuous glucose monitoring (CGM) System! Now, this system is covered under Medicare for people with diabetes on intensive insulin therapy who meet the eligibility criteria.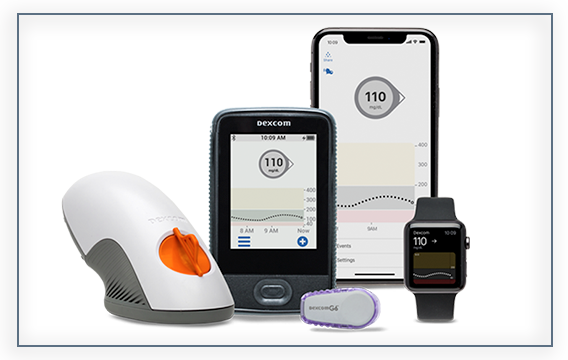 Ready To Upgrade From The Dexcom G5 To The Dexcom G6?
Get started today with the Dexcom G6 – a mobile CGM system including customizable alerts that allow you to make more informed decisions about your diabetes management by providing real-time glucose readings sent right to your smart device! Features of the Dexcom G6 System include:
No calibration required – No need to calibrate with a blood glucose meter, eliminating the need for fingersticks.
Long-life sensor – Approved for up to 10 days of use.
Sensor insertion with auto-applicator – Insert the sensor with the push of a button.
Urgent alerts – Receive a 20-minute advance warning of a potential severe hypoglycemic event.
Alert schedules – Alerts can be customized for two periods of time within 24 hours (i.e., day and night schedules).
Slim, water-resistant sensor – The new, slim sensor is water-resistant and can be submerged under 8 feet of water for up to 24 hours when installed properly.
No fingersticks – The Dexcom G6 eliminates fingersticks for calibration and diabetes treatment decisions.
Share your glucose data – Use the Dexcom Share feature available in the Dexcom G6 CGM app to provide your real-time glucose data with up to 10 followers.
Gain Control Of Diabetes With The Dexcom G6 System Today!
If you're interested in the Dexcom G6 for Medicare, our team of Diabetes Care experts is standing by! We'll walk you through every step of the process, from obtaining the right paperwork from your doctor and your insurance to shipping the product and setting up reorders for supplies.
---
Tags: CGM, Continuous Glucose Monitors, Dexcom, Diabetes, Diabetes Management, Medicare
---
Related Articles