Healthy Pregnancy Snacks
Because your baby is growing, your energy needs will increase too! This means extra calories are necessary to keep you and your baby healthy during this time.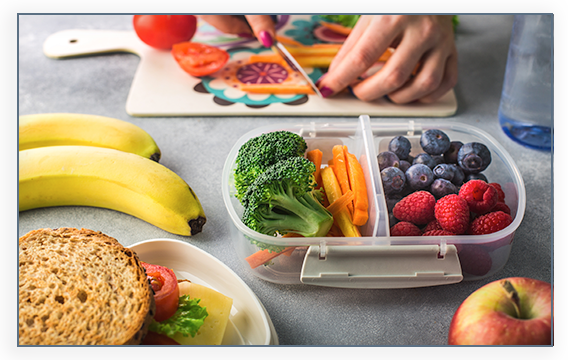 As you have been slowly increasing your calories from the first trimester to the second (by approximately 300 calories per day), during the third trimester your calories needs will increase to around 450 extra per day. Each snack idea listed below brings with it a healthy combination of protein, carbohydrate, and approximately 200-300 calories to ensure that you and baby are getting the proper nutrition needed in the last months of pregnancy.
Have more questions? Listen to our FREE podcast!
LISTEN NOW
Snack Ideas
• ½ English muffin toasted with 1 tablespoon marinara sauce and 1 oz. melted reduced fat mozzarella cheese
• 1 (6 inch) tortilla and 1 oz. turkey breast with lite mayo or mustard
• 3 cups low fat popcorn and 1/3 cup shredded parmesan cheese or 1 oz. string cheese
• 1/3 cup hummus plus 1 cup raw vegetables
• 6 whole wheat crackers and 1 tablespoon peanut butter or 1 slice low fat cheese
• ½ cup plain oatmeal and 14 walnut halves
• 1 small-to-medium (4oz.) apple, pear, or orange and 1 string cheese or ¼ cup peanuts
• 1 ¼ cup strawberries or cubed pineapple and ½ cup low fat cottage cheese
• ½ of large banana and 1 tablespoon peanut butter
• 6 oz. lite flavored yogurt and ¼ cup almonds
• 17 grapes plus ¼ cup pumpkin, sunflower, or sesame seeds
• ½ English muffin with 2 tablespoons almond butter with cinnamon
• 1/4 cup mixed nuts combined with ½ cup dried fruit
• 2 stalks of celery with 2 tablespoons of natural peanut butter and 2 tablespoons of golden raisins
• Healthy protein bars such as Kind, Lara Bar, or Kashi
• 1 hardboiled egg with 6 whole wheat crackers
• 6 whole wheat crackers and ½ cup canned/packaged tuna
---
The information contained here within is not intended to be a substitute for professional medical advice, diagnosis, or treatment. Always seek the advice of your physician or other qualified health provider with any questions you may have regarding a medical condition. Never disregard professional medical advice or delay in seeking it because of something you have read. If you think you may have a medical emergency, call your doctor, go to the emergency department, or call 911 immediately. Edwards Health Care Services (EHCS) does not recommend or endorse any specific tests, physicians, products, procedures, opinions, or other information that may be mentioned here within. Reliance on any information provided by EHCS, EHCS employees, contracted writers, or medical professionals presenting content for publication here within is solely at your own risk.
---
Tags: Health, Healthy snacks, Nutrition, Pregnancy, Wellness
---
Related Articles