Weight Gain During Pregnancy
The amount of weight you gain during pregnancy is important for the health of your pregnancy and for the long-term health of you and your baby. There are possible risks associated with gaining too much or too little weight during your pregnancy.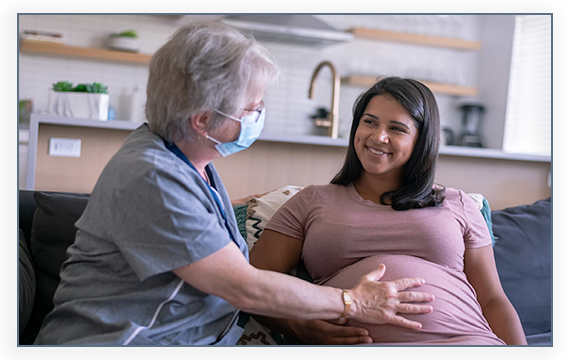 Gaining less weight than the recommended amount is associated with delivering a baby who is too small. Low birth weight babies may have difficulty breastfeeding, be at an increased risk for illness, and experience developmental delays (not meeting the milestones for his/her age). Gaining more than the recommended amount of weight in pregnancy can increase your risk of having a baby who is born too large, which can lead to delivery complications, gestational diabetes, preeclampsia, cesarean delivery, and obesity during childhood.
Pregnancy Weight Guidlines
How much weight you should gain during pregnancy is based on your body mass index (BMI) before pregnancy.
• Underweight before pregnancy (BMI under 18.5) = 28-40 pounds of recommended weight gain
• Normal weight before pregnancy (BMI between 18.5-24.9) =  25-35 pounds of recommended weight gain
• Higher weight before pregnancy (BMI of 25-29) = 15-25 pounds of recommended weight gain
• Higher weight before pregnancy (BMI of 30+) = 11-20 pounds of recommended weight gain
These numbers are based on single pregnancies and can differ if you are pregnant with multiples. Try not to worry if you're slightly above or below these weights; remember these numbers are guidelines. You and your health care provider can help determine what is best for you. On a trimester basis, in a woman with an average pre-pregnancy weight, the rate of gain may look like this:
• First trimester: 1- 4.5 pounds
• Second trimester: 1-2 pounds per week
• Third trimester: 1-2 pounds per week
This is just an average; your individual weight gain/rate of gain may vary. Always discuss this with your health care provider, since he/she monitors your baby's growth.
Have more questions? Listen to our FREE podcast!
LISTEN NOW
Know your caloric needs
Usually in the first trimester you will not need extra calories. You need approximately 340 extra calories per day in the second trimester, and about 450 extra calories per day in the third trimester. Talk to your health care provider for help determining your nutrition requirements!
Eat a balanced diet
Focus on vegetables, fruits, whole grains, low fat dairy, lean protein, and heart healthy fat sources. Try to limit too much added sugar and saturated fat.
Stay active
Physical activity is healthy, safe, and recommended for most pregnant women! Talk to your health care provider to determine if you have any physical activity restrictions. It is recommended to get at least 150 minutes of moderate intensity aerobic activity per week. This can be broken up into small sessions throughout the course of the day. For example: walking briskly for 15 minutes twice daily, five days/week would meet that goal.

---
The information contained here within is not intended to be a substitute for professional medical advice, diagnosis, or treatment. Always seek the advice of your physician or other qualified health provider with any questions you may have regarding a medical condition. Never disregard professional medical advice or delay in seeking it because of something you have read. If you think you may have a medical emergency, call your doctor, go to the emergency department, or call 911 immediately. Edwards Health Care Services (EHCS) does not recommend or endorse any specific tests, physicians, products, procedures, opinions, or other information that may be mentioned here within. Reliance on any information provided by EHCS, EHCS employees, contracted writers, or medical professionals presenting content for publication here within is solely at your own risk.
Sources:
• https://www.cdc.gov/reproductivehealth/maternalinfanthealth/pregnancy-weight-gain.htm
• https://americanpregnancy.org/pregnancy-health/pregnancy-weight-gain/
• https://www.nhlbi.nih.gov/health/educational/lose_wt/BMI/bmicalc.htm
---
Tags: Health, Pregnancy, Weight gain, Wellness
---
Related Articles